Special General Meeting - February 5th, 2023
---
---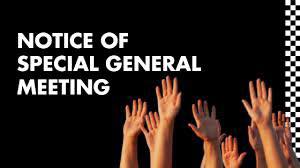 ---
We will be holding a Special General Meeting on Sunday, February 5 at 7:00 at the Soccer Hut. There will be an election for the position of Vice President.
We would like to thank our nominees for volunteering to be a part of our Board. The nominees are:
Lisa Inkpen
April Newhook
There has been a written application for a proposed amendment to our constitution which will also be voted on at this time.
We invite our members to join us at the SGM!
<><><><><><><><><><><><><><><><>
Persons 19 years of age and over who have participated in the promotion of soccer in Mount Pearl are eligible to vote on any issue presented at an annual general or special general meeting of the MPSA, provided that they are in good standing with the MPSA and that within the twelve (12) month period immediately preceding the meeting at which a vote is being conducted they were:
• a registered player, 19 years of age or older, with the MPSA, or
• the parent or legal guardian of a registered MPSA minor player, or
• an MPSA coach, assistant coach, manager, convenor, or referee, aged 19 or older, or
have been at any time, an elected executive member of the MPSA.